The Average Couch Cleaning Price in Sydney
Usually, depending on the size, couch cleaning Sydney price comes somewhere between $500 to $2000. Well, stating the precise price rate is not at all possible as the total cleaning cost depends on several factors, including the cleaning technique, type of stain, service provider, etc.. professional couch cleaners assess the condition of your couch and figure out the required treatment and mention the price rates on the written quote. We bring your most economic option and ask for a very competitive Couch Cleaning Price Sydney. Schedule an inspection today to get a free quote.
Couch Steam Cleaning Cost
A steam cleaning service generally requires you to pay between $500 to $1500. The expense generally increases relying on the quality of the solvent, steam cleaning machine, number of seats to be cleaned, their fabric type, and the couch cleaner's price
The dry cleaning technique is a bit less expensive compared to steam cleaning. And again, the cost relies on the dry cleaning solvents, tools, couch size, and professional wage. On average couch dry cleaning prices appear between $200 to $300.
Sofa Cleaning Price relies on the number of sofa seats, the level of dirt, and the service provider you opt for. Usually, for a single sofa seat, you might need to pay approximately $30 to $35.
For upholstery cleaning, the total cost is primarily determined by the fabric type and the best cleaning technique required for it. The secondary factors involve a level of dirt, stains, etc. As an estimation, the upholstery cleaning price remains between $12 to $125 per upholstery piece.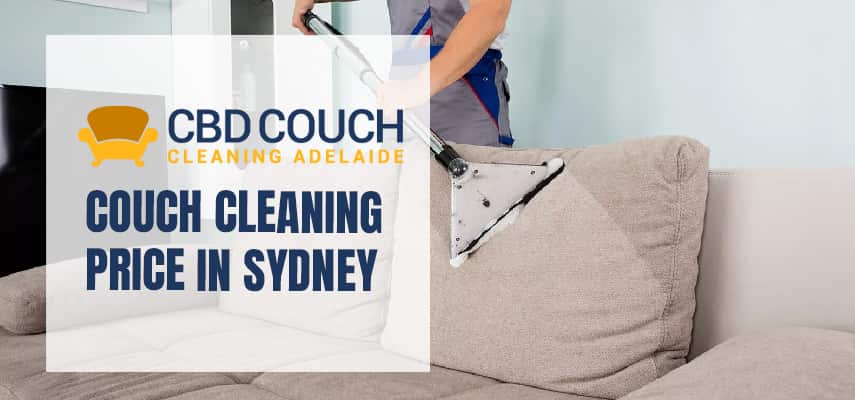 Top 4 Factors That Determine Upholstery Cleaning Price
People often frown when couch cleaners ask for a higher price from them compared to their acquaintances, assuming the professionals are biased. Well, they are not being biased, they are being professionals. The exact upholstery cleaning price relies on a multitude of factors. Here we have mentioned the top-notch ones:
Number of upholstery pieces to clean
The cleaning price increases or decreases depending on the number of upholstery pieces that you need to clean. Well, cleaning companies offer bundle deals if you have too many pieces to clean.
The second factor that affects the cleaning cost is the type and size of the furniture. Generally, there are different types of upholstered sofas, including L-shaped, U-shaped, etc., having their individual cleaning price.
Fabric is the biggest factor when it comes to determining the upholstered couch cleaning costs. Some professionals even ask for extra charges if the fabric is delicate or expensive. Delicate fabrics need utmost care and industry-grade cleaning techniques maintain the lustre, which in turn, increases the cleaning cost.
Between dry cleaning and steam cleaning, dry cleaning is less expensive and also safer for your pricey and delicate upholstered furniture. Steam cleaning is pretty costly and works great in removing trapped dirt and greasy grime.
Is it Possible To Find The Exact COUCH CLEANING PRICE?
Finding out the exact couch cleaning price is never possible through online research. For that, you need to have a conversation with the service provider and tell them your requirements. The professionals will then appear at your doorstep, evaluate your couch or sofa thoroughly, and after that hand you over a bid. If you agree to their price rates, they would finalize the deal and initiate the project.
Save More Money on Couch Cleaning in Sydney With Our Pro Cleaners at CBD Couch Cleaning
There are a lot of couch cleaning companies scattered that might swindle you by asking for more money even when the work is little. But we are not like them. With over 25 years of experience, we have a good name in the industry and ask only the fair couch cleaning prices. Our service charge is not just highly affordable but also transparent, meaning you will never encounter any sudden, hidden, or unexpected additional charges with us. Contact us now to get your bid. Our professionals have Certificate III in Cleaning Operations.
Upholstery Cleaning Sydney Cost
Are you interested in knowing all upholstery cleaning price-changing factors and average cleaning prices for various upholsteries and furniture cleaned by our team? CBD Couch Cleaning is very conscious of prices and price-changing factors so we want you to know all of them so that when you hire a service provider, you are aware of things for which you are paying. The average cost of upholstery cleaning services in our company is between $200 to $450. You can check all details below.
Voluntary Add-ons And Their Costs
As we know the importance of upholstery cleaning in our daily, there are some additional services that are also important for your upholstery. These services not only enhance the look of your couch but also refreshen it and keep it clean and hygienic. But these services are of voluntary nature that is you can book these services only if you want. Some of these voluntary services and their prices are:
The average cost of stain removal service is $30 to $100 in our company.
Our company's average cost of fabric protection service is $10 to $20 per sq. foot.
The cost of deodorising your upholstery ranges between $50 to $80 on average.
We charge an average cost of $35 to $75 for pet hair removal services for your upholstered furniture.
Thus, choose your specific service and give us a chance to serve you.
Hire Our Upholstery Cleaning Services With Our Discounted Rates
If you are searching for upholstery cleaning services in Sydney then you should choose our services as we are proven to be the best option for you. We charge services at a reasonable rate already but you will feel very happy to hear that we also have many types of offers and discounts. The offers and discounts may vary for different types of upholstery and from season to season. Sometimes you can also get deals when you choose our services for the first time. Nowadays, you will get a discount when you hire our cleaning services of $299 or above. The discount you will get on this is up to flat 5-10%.
Price Disclaimer
The average upholstery cleaning prices given here are subject to change. The change in price may depend upon various factors like the size of your upholstery, and the condition of your upholstered furniture that is the amount of stains present, dirtiness, etc. If your couch has some special instructions for cleaning then prices may also vary. Hence, you must be ready for this change and confirm your price at the time of booking your service.
Contact Us
You only choose such services where you will get complete satisfaction in terms of quality, efficiency, and also cost. If you are a resident of Sydney, then contact our Upholstery Cleaning Sydney team for getting the best cleaning experience. Our contact details are below:
Contact No: (02) 8074 5807
Address: 46 Park St, Sydney, NSW, 2000, Australia
Book us by any of the ways at any time as we are available 24*7.