Eminent Couch Stain Removal Sydney Service Only For You
Are you planning to leave behind your couch in the storeroom because the stubborn stains now turned into permanent ones? Do not! You got CBD Couch Cleaning Sydney by your side to resolve this issue of yours as we have eminent stain removal services to offer. So, you can either get in touch with us via (02) 8074 5807 or do a direct booking from your place itself by filling out our form.
With more than one couch stain removal Sydney team in Australia, we reach out to our clients in the shortest time. Moreover, as a local company and professionals, we take it as an advantage to reach your place on time. Because you deserve timely fashion assistance with couch stain removal. Now, if you want to know how efficient we are and how effective our stain removal methods are dial in for enquiries.
To Make Your Couch Stain-Free, We Follow A Certain Process
Are you planning to get rid of stains from the couch on your own? Why the hassle when you got our couch stain removal Sydney team by your side? Yes, you can take our help. Because regardless of the number of stains and how stubborn it is, we can reverse the situation for you. So, make your couch a stain-free area today!
Check The Tag: Checking the tag of the couch always helps in which stain removal method is best and most effective. Here, we check for the following tags on your fabric couch:

S- Use of solvent-based cleansers
W- Use of water-based cleansers
S/W- Solvent-based and water-based removal
Wash- Washing machine removal
X- Only use a vacuum cleaner.

Dab To Remove Excess Of Stains: We do not give you a chance to your couch from soaking the stains into it and hence dab the excess stains. For this step, we take a clean white cloth or a neat towel and get rid of all the excess liquid by moving the cloth in slow motion.
Proceed To removal: On the basis of tag information or label instructions, we decide on a couch stain removal Sydney method. Then we proceed according to it and make your couch stain-free in no time. Also, we get rid of permanent stains!
Deodorise The Couch: Once we do thorough removal of stains from your couch, we move on with deodorising it. This way your couch along with its fabric smells pleasant and regains its former glory that you are looking for.
Re-Inspect Couches' Fabric: As excess stains are removed to clean them to do a perfect removal and deodorise the couch, re-inspect the couches' fabric. By re-inspecting the couch and its fabric, it gets once over inspection to see if every outcome is what you desired.
In These Situations, You Can Contact Us For Couch Stain Removal Service
Well, stains get onto any of the belongings of your property and one of those is couches that come under the upholstery category. So, if you see stains that already formed scabs on your couch or recent spills, take this as a reason to book us. See some of the stains that want our attention.
Bloodstains: Because of accidents you or your pets experience, couches become victims of bloodstains. These bloodstains get onto the couch when you get cuts, pets have wounds on their body, etc.
Beer Stains: After an overnight party, your couch cannot escape being stained from beer and wine stains. So, hurry up to make your couch stain-free with effective couch removal Sydney services.
Lipstick Stains: If your lipstick accidentally creates stains on the couch, do not scrub the area as it overspreads. And if you do not know what to do after that, immediately get in touch with us to make it a lipstick-free couch.
Chocolate Stains: Another common stain your couches show you that turns to mould is chocolate stains. Moreover, if your couch is the favourite place for your kids, then it is done for.
Stains From Sauces: If you are a family with kids, then your couches are bound to get stained because of sauces. Generally, your couch gets stains from tomato sauce, soy sauce and many more everyday usable sauces.
Why Are The Most Recommended Company For Couch Stain Removal?
Sometimes people do not know whom to check or connect with for their couch stain removal service. And this is when you can search for a company in the "Most recommended company for couch stain removal" and find us. We are the best company for the following reasons:
Use Of On-Trend Technology: For something like couch stain removal Sydney service technology is very important and hence we use it compulsorily. In fact, the technology we implement for couch stain removal is on-trend and advanced.
Multiple Stain Removal: Oftentimes, couches become victims of multiple stains and therefore we provide multiple stain removal services. With these services, you can get rid of more than one stain on your couch fabric and make them stain-free.
Budget-friendly Prices: If it is about service prices you are worried about then you have to know that we charge budget-friendly prices. You can even pay these service prices in cash mode, by card or by online payment.
Accredited Company: our company is accredited with the IICRC of the Australian committee and became a recognised firm. So, you can rest assured that we follow legal procedures and all the necessary guidelines.
Experienced Team: Over the years we have been getting experience in removal methods as well as technology. During all the working experience, we found ourselves gaining many more new skills from the industry. Our staff have Certificate III in Cleaning Operations.
FAQs – Couch Stain Removal Sydney
If it is a same-day service you booked from us in the morning, you can wait for an hour. However, if you book our experts during the night, then we reach your place within the next 24 working hours.
Firstly, you need to make sure to not scrub the area as it further pushes the stain into the couch. Then, pick up your phone to immediately dial our number and hire us.
Our Sydney professionals are licensed as well as certified. So, do hesitate to look for us in Sydney!
We Also Provide Services in These Below Suburbs: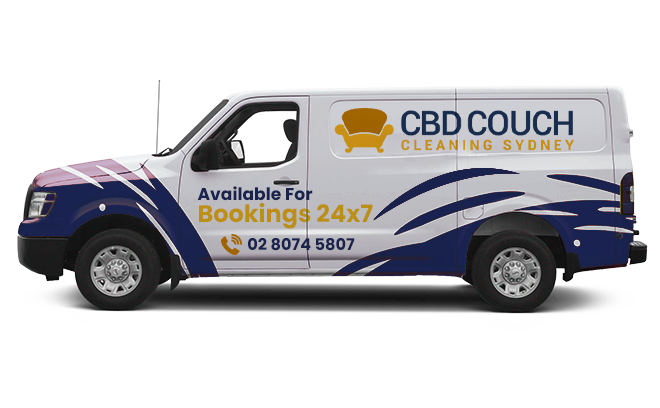 CBD Couch Cleaning Sydney
Location :-
46 Park St, Sydney, NSW, 2000, Australia
(+61) 280745807
(+61) 258501272
Hours of Operation : Mon-Sun 6:00 AM – 9:00 PM
Costumers Rating (116)
Testimonials
"I am Rob. Couch stains and odours in my home were causing me problems. I feared those smells a lot. They were destroying my mood, and I saw them growing daily. I made an effort to manage them myself, but I completely failed. Finally, I got in touch with CBD COUCH CLEANING and I am happy to find that my problem has been solved.
"I am Lily. For a few days, I had a couch smell problem, and I tried everything to get rid of them. My friend recommended your services. Only once I cleaned my couch with this company, and the problem has already diminished. All problems have been solved easily.
"My name is Jack. I used couch cleaning services from this company to get rid of stains on my hall couch. The best part is how they comprehend the problem and inform us. I now enjoy a smell-free couch and home. I would really love to call them again if there will be any problem as such in the future.
Reach Here

CBD Couch Cleaning Sydney
Location: 46 Park St, Sydney NSW 2000