For Any Place in Sydney, Our Couch Sanitisation Service Is Available
CBD Couch Cleaning Sydney lacks no experienced professionals and in fact, we treat everyone above because they are the ones that help our clients. With multiple germs, numerous mould patches, and many more allergens, it is not easy to deal with the couch on your own. However, we can help you in skipping this distress as we have excellent working experience in the Couch Sanitisation Sydney service.
In fact, we became the most recommended team in Sydney when it comes to offering anything related to couch sanitization. With the best technology and sanitising techniques in the industry, your couch becomes allergen and germ-free in no time. You can rest assured that your couch and its fabric are in safe hands thus call us at (02) 8074 5807. We are always ready to answer your bookings and enquiries!
Leave Your Couch In Our Hands As We Do Safe Sanitisation Program
Couch sanitization Sydney program is a common one if you want to decrease the maximum amount of bacteria and other germs on your couch. Sanitising the couch is one such thing that keeps your health at public health standards. So, get in touch with us to avail of our assistance regarding this to make your company couch germ and allergen-free.
Vacuuming: The very step to starting our couch sanitization Sydney program is to vacuum your couch. It greatly impacts the reduction of allergens and helps to upkeep the overall look of the couch.
Stain And Spot Removal: Without stain and spot removal, complete removal of germs and allergens is a bit hard from the couch where you sit or lie. Hence, we never skip doing stain and spot removal for your couches as this best helps in half of the couch sanitization work.
Any Compatible Cleaning Method: Depending upon the label instructions, we decide on what method is correct to use for deep cleaning your couch. This step may be able to steam cleaning, dry cleaning, shampooing, foaming, and many more.
Sanitization: Now comes the sanitization step for your residential or commercial couches in Sydney. Some of the common couch fabrics we sanitise are microfiber, leather, and linen.
Post-Inspection: After completing the sanitization step of the program, we lastly do a post-inspection for the couch. In fact, this step is completely a part of the couch sanitization Sydney service and no extra charges are taken.
Reasons You Can Book Our Local Experts For Couch Sanitisation Sydney Service
One thing leads to another if you do not give your couch attention with effective treatment like couch sanitization Sydney service. Because there are reasons that your couch shows you as this helps both them and yourself. So, you can contact our local experts whenever you find the below signs:
Reason For Itches: Over the long run of couch use, your couch becomes weary and this, in turn, causes reasons for itchiness. Thus, take this as a sign to instantly get in touch with us for couch sanitization Sydney service.
A Variety Of Germs: Germs such as viruses, bacteria, fungi, and others eventually lead to unhygienic properties. These germs also cause your diseases in the later time of days or months or years and thus you need to be aware of them.
Lack Of Air Quality: Continuous growth of germs on the couch is one factor that influences the air around you and this decreases air quality. In fact, the decrease in air quality that surrounds you makes you breathless and uncomfortable.
Allergic Reactions: In the absence of sanitization, you are also prone to allergic reactions which thus trigger further health issues. These allergic reactions rise in rashes, skin allergies, itchiness, and other uncomfortable reactions.
Other Respiratory Issues: In addition to allergic reactions, unhygienic couches cause asthma, breathlessness, etc. All these respiratory issues in turn slowly damage your respiratory system.
How Are We Different From Other Companies In The Industry?
Our couch sanitization Sydney service is affordable, makes use of advanced technology, offers obligation-free quotes, etc. In addition to this, we are famous for recruiting experts that have all the knowledge about sanitization methods. And these make us different from others in the couch sanitization industry in addition to the reasons below:
Experts From Sydney: You will be surprised to know that for every region in Sydney, our local experts will be dispatched. Moreover, as we are a local team of skilled experts, we reach your place on time or schedule slot booking.
Unparalleled Knowledge: Our knowledge of couch sanitization treatment is unparalleled and unbeatable. In fact, we never stop at what knowledge we have and keep updating ourselves with the trend and technology.
Tested And Approved Products: All the products we use for the couch sanitization Sydney service are tested and approved. Also, all of our products are harmless and easy on kids, pets, the elderly, and pregnant women's health.
Certified Company: In addition to us being a licensed company, we are a certified company recognised by famous institutes. In fact, in Sydney, we became one of the famous companies because of our certifications and accreditation. Our staff has Certificate III in Cleaning Operations.
Emergency And Same-Day Services: On contacting our company, you can avail of emergency as well as same-day service. Even on booking us for these, we take no extra charges and maintain extreme transparency.
FAQs – Couch Sanitisation Sydney
If you want our team to sanitise your leather couch, it hardly takes 30 to 60 minutes. Our couch sanitization Sydney service detects germs such as viruses and bacteria and gets rid of them at the maximum rate.
Below are the couch sanitization methods that are both effective and affordable:
Dry extraction
Ultraviolet sterilisation and
Steam vapour
From the best and most famous areas to the most remote areas in Sydney, our experts cover everything to give couch sanitization service. Many of those areas belong to places such as Macarthur region, North Shore, Western Suburbs, St George and Sutherland Shire. Thus, contact us right away for couch sanitization!
Couch Sanitisation Sydney
Call us at (02) 8074 5807 Couch Sanitisation Sydney
Location: Sydney, NSW, 2000, Australia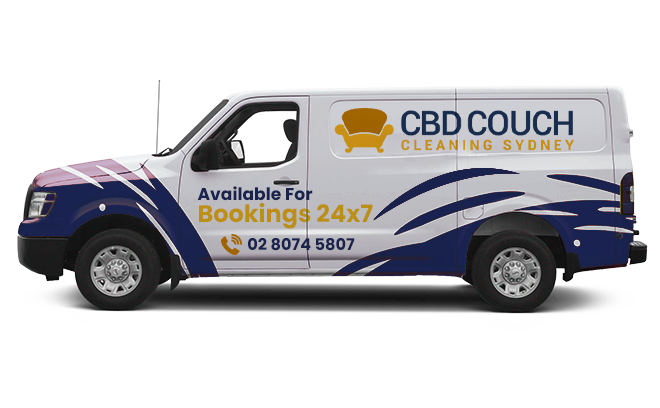 CBD Couch Cleaning Sydney
Location :-
46 Park St, Sydney, NSW, 2000, Australia
(+61) 280745807
(+61) 258501272
Hours of Operation : Mon-Sun 6:00 AM – 9:00 PM
Costumers Rating (116)
Testimonials
"I am Rob. Couch stains and odours in my home were causing me problems. I feared those smells a lot. They were destroying my mood, and I saw them growing daily. I made an effort to manage them myself, but I completely failed. Finally, I got in touch with CBD COUCH CLEANING and I am happy to find that my problem has been solved.
"I am Lily. For a few days, I had a couch smell problem, and I tried everything to get rid of them. My friend recommended your services. Only once I cleaned my couch with this company, and the problem has already diminished. All problems have been solved easily.
"My name is Jack. I used couch cleaning services from this company to get rid of stains on my hall couch. The best part is how they comprehend the problem and inform us. I now enjoy a smell-free couch and home. I would really love to call them again if there will be any problem as such in the future.