Book Us For Excellent Couch Steam Cleaning Service In Sydney
CBD Couch Cleaning Sydney knows our stuff when it comes to offering steam cleaning services for couches in Sydney. We are known in the couch steam cleaning industry for our excellent persistence from the day we started our company. From honing our skills every day by continuously training ourselves and gaining new experiences every day, we improved ourselves. Moreover, we keep motivating our experts to keep ourselves up-to-date.
In fact, in recent years, we became a highly recommended company in Sydney for our efficient professionals and effective cleaning. Even if your couch has multiple stains, numerous odours and many more germs, our steam cleaning greatly works. Also, we explain the outcomes our couch steam cleaning Sydney service gives. So, count on us for the best services and contact us at (02) 8074 5807.
How Is The Steam Cleaning Procedure Done?
If you want to avoid harsh chemicals getting into contact with your couch, then our couch steam cleaning Sydney method is best. Steam cleaning is the most useful technique to deep clean couches and has many applications. So, take a look at our steam cleaning procedure.
Inspect Label: We always inspect the label on the couch before confirming if your couch is compatible with the process. The important thing here we do is to check for the following symbols first:

S- Water-based cleaning
W- Solvent-based cleaning
WS- Water and solvent-based cleaning
X- Vacuum cleaning only

Remove Surface Dirt: Then we pick up the process to remove the surface dirt by first brushing it off and then vacuuming it. With this step, we then select a vacuum cleaner with proper attachment; especially cushions.
Pre-Treat For Stains: Meanwhile we also give importance to the removal of all kinds of stains with a pre-treatment. Usually, we remove stains from dirt, makeup, pet urine, paint, stains, bodily sweat and many others.
Pre-Condition The Couch: Using a cleaner, we precondition the couches' fabric to not let the surface get hardened before further cleaning. Here, we spray emulsifiers over your couch to lift all the dirt and let it soak into the fabric.
Steam Cleaning: Next to pre-conditioning the couch, we steam clean it using a steam cleaner by choosing the right one. With this step, dirt that is even in deep corners of your couch completely gets removed and the job gets done quickly.
What We Do To Clean Your Fabric And Leather Couch
When Can You Call Us For Couch Steam Cleaning Service
There are the most important situations with your couches that you can neither ignore nor neglect. Because couches are such belongings that spoil their health as well as yours if you do not keep an eye on their hygiene. Hence, in case of finding the below properties with your couch, immediately contact us.
Several Of Stains- Despite taking extreme care of upholstery like a couch, you cannot save your couch from stains. Many times, stains you find on your couch are from beer, chocolates, sauces and so on.
Unbearable Odours- If there is dirt on or in your couch, it eventually leads to unbearable odours spreading around you. And most of the unbearable odours you get to smell from couches are because of permanent stains on the couch.
Patches Of Mould- Over the long run, your couches become dwelling places for harmful contaminants like mould. In addition to this, mould in fact will be found in different colours of patches varying from red to green and black.
Compromising On Air Quality- Because of bacteria, viruses and other germs, the air surrounding you slowly compromises air quality. So, if you smell unpleasant odours or are sometimes unable to breathe properly, contact us.
Asthma & Allergy- Problems such as asthma and allergies are the common health issues you get to face if your couch gets dirt. Therefore, as soon as you sneeze or have a runny nose after sitting on the couch, it is a sign of an allergy.
What Are The Benefits You Get On Choosing Us For Couch Steam Cleaning?
Steam cleaning is always a better option to keep your couch safe and hygienic. Thus, we take a step forward to stand and offer the befitting steam cleaning for every type of couch in Sydney. Our cleaning is effective with the use of advanced technology and tools. More such benefits are as follows:
Affordable Pricing: We provide couch steam cleaning Sydney service even in emergencies at affordable prices. Moreover, these affordable pricing services are attractive enough for you to invest in our certified experts.
Local Experts Are Available: If you are looking for a team that is local to Sydney, you can get in touch with our experts. We are available round-the-clock for bookings and for steam cleaning your couch, we are available on weekdays.
Accredited Company: We are an accredited company in Sydney with knowledge and is licensed to use particular methods. We are recognised for our unparalleled knowledge in customising different steam cleaning programs.
Use Of Fabric-Protecting Products: Oftentimes, people worry about their couches. And hence we assure you of the use of fabric-protecting products. This use of cleaning products is safe for couch fabrics as well as your health.
Obligation-Free Quote: In addition to the couch steam cleaning Sydney service we provide; We offer obligation-free quotes as well. These quotes in fact will be covered under the overall package of cleaning methods. Our staff have Certificate III in Cleaning Operations.
FAQs – Couch Steam Cleaning Sydney
Generally, it takes around 5 to 6 hours for our couch steam cleaning Sydney service to get completed if the program. (includes drying at the process ending). However, this time varies because of other aspects of the couch like seating and dirt it has.
Yes, you can. Because we are available even on weekends exclusively for steam cleaning bookings for couches. So, book us right this instant!
Yes, you can. It is your choice for you to stay on or off-site during the cleaning method of the couch. If you have any other queries regarding our service, immediately get in touch with us. We would be pleased to help you!
We Also Provide Services in These Below Suburbs: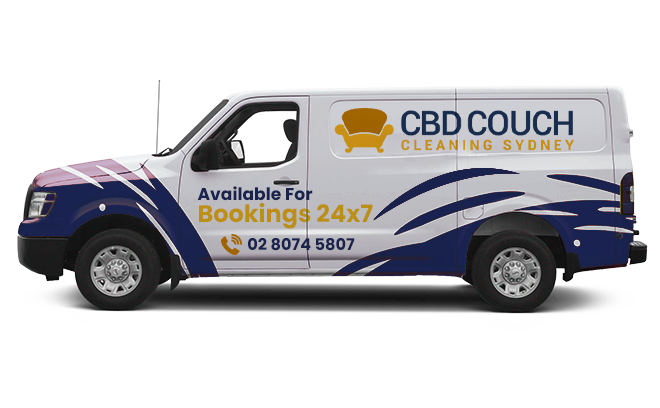 CBD Couch Cleaning Sydney
Location :-
46 Park St, Sydney, NSW, 2000, Australia
(+61) 280745807
(+61) 258501272
Hours of Operation : Mon-Sun 6:00 AM – 9:00 PM
Costumers Rating (116)
Reviews :-
Quick services
November 14, 2022
"I am overjoyed. As a customer, I felt completely confident in the technician who listened to my couch cleaning concerns, walked around the property with me, described the process in depth, answered all of my questions patiently, and provided the service at the end. Now my burnt couch looks nice.
Great staff
November 14, 2022
"Although the organization has excellent facilities, I'm happy with this employment. I gained knowledge on how to manage couches and sofas in my home properly. The staff is also very good.
Low price
November 14, 2022
"This couch cleaning team does so many things but they charge a reasonable price for the service. Thanks a lot for these fantastic services. I never had such an affordable service in Sydney.
Testimonials
"I am Rob. Couch stains and odours in my home were causing me problems. I feared those smells a lot. They were destroying my mood, and I saw them growing daily. I made an effort to manage them myself, but I completely failed. Finally, I got in touch with CBD COUCH CLEANING and I am happy to find that my problem has been solved.
"I am Lily. For a few days, I had a couch smell problem, and I tried everything to get rid of them. My friend recommended your services. Only once I cleaned my couch with this company, and the problem has already diminished. All problems have been solved easily.
"My name is Jack. I used couch cleaning services from this company to get rid of stains on my hall couch. The best part is how they comprehend the problem and inform us. I now enjoy a smell-free couch and home. I would really love to call them again if there will be any problem as such in the future.
Reach Here

CBD Couch Cleaning Sydney
Location: 46 Park St, Sydney NSW 2000
Couch Steam Cleaning Sydney
Call us at (02) 8074 5807 Couch Steam Cleaning Sydney
Location: Sydney, NSW, 2000, Australia