Ready To Help Your Couch With Dry Cleaning? Contact Our Sydney Team
Thanks to our experts, CBD Couch Cleaning Sydney gained its reputation and became a referral for many people in Sydney. Because in addition to their dedication towards their work, our couch dry cleaning Sydney experts have excellent skills, punctuality, etc. Also, when we are providing dry cleaning methods for your couch, we prioritise communicating and then taking consent for cleaning. Our work for couch dry cleaning is quite impressive.
With a fantastic talent and great knowledge about couch cleaning products, you can rest assured that your couch is in safe hands. Our hands-on couch for dry cleaning transforms your couch into everything back like before. Also, operating in Sydney, we made it our speciality that offers couch dry cleaning Sydney service to both residential and commercial spaces. Thus, wait no more and contact us today at ((02) 8074 5807).
Procedure We Follow For Dry Cleaning The Couches
Our couch dry cleaning Sydney team always does a better job at what projects we take from residential or commercial property. In fact, the level of dry cleaning we do depends upon various factors such as the size, shape and dirt the couch has. See one of our dry-cleaning procedures for the couch.
Identify all issues your couch is facing that are making them look dull and discomfort. For this reason alone, we thoroughly inspect the couch from all angles, inside out
Cleaners are always ready to get rid of stains and spots using specialised cleaning agents as we are specially informed to do that
Sort out the couch along with its cushions in order to see if the couch dry cleaning Sydney method is compatible with it
Once compatibility shows positive results, we proceed with directly dry cleaning the couch. In this step, we also use tested and approved standard solutions. These are good at safely removing grease and dust
On completing the dry cleaning step, drying is then done. Here, we make sure to check no residues are left behind after the drying step. In fact, drying is attained in 2 ways like the following:

Natural drying- Sunlight
Artificial drying- Use of fans, air movers, dehumidifiers, etc.

To make the couch look beautiful, we finish it by pressing it. With this, we remove wrinkles too
Give a final inspection of your couch and confirm that the results are what you are looking for.
Reasons You Can Call Us For Dry Cleaning Service
In no time, couches become dirty and dusty when it lacks proper care and attention which in turn, disturbs your lifestyle. There are in fact many reasons that lead to this situation that gives you more stress and adds problems to your busy life. Thus, on finding any of the following reasons with your couch, it is time to contact us!
Dirt On Surface: The longer a couch stays at your home, the more the dirt gets onto the surface of the fabric. In fact, if your couch is made of velvet and cotton fabrics, they attract more dirt and harder it takes to clean them.
Dust Mites: Dust mites do not just stay in mattresses but in upholstery-like couches as well because of the dust in the couch. These dust mites unnecessarily trigger your breathing issues, asthma, allergies and other respiratory problems.
Discomfort: In the absence of regular couch cleaning, couches make you feel discomfort whenever you lay or sit on them. In fact, with no regular cleaning, more dust accumulates and this in turn leads to discomfort for you and your family.
Loss Of Bright Colour: Couches also lose their bright colour to become worn-out couches and this shows how unkempt they are. No more bright colour to your couch, (which should be), the elegant vibes also miss over the long run.
Change In Texture: If you find that your couch has no more of the same texture as it was on the day first, it is time for dry cleaning. Couch dry cleaning Sydney service regains your couch's texture in the shortest time possible.
What We Do To Clean Your Fabric And Leather Couch
Why Is Our Famous For Couch Dry Cleaning Service In Sydney?
There are many reasons why we became a famous point for couch dry cleaning Sydney service and for our popularity. In addition to charging affordable prices, and offering free quotes and advice, there are many benefits you get from us. Like the following ones:
Advanced Equipment: Whenever it is couch dry cleaning, we make use of advanced equipment from vacuum cleaners to many more. Moreover, all of our equipment is thoroughly checked before using it to dry clean your Sydney couch.
Multiple Payment Options: When it comes to payment after the completion of the dry cleaning service, we give you multiple payment options. These options vary from cash and card to several online payment modes.
Same-Day & Emergency Services: By understanding the needs and concerns, we came forward to provide same-day and emergency services. If it's these services you want to book, then you are free to contact us even late at night.
Pre-Inspection And Post-Inspection: We never miss out on doing thorough pre-inspection and post-inspection steps for a process. Moreover, we also charge costs for them in couch dry cleaning Sydney service and make them budget-friendly.
Anywhere In Sydney: Our company has regional experts in Sydney and we dispatch them anywhere in Sydney. As we have immense knowledge about people and their tastes, we know what couch fabrics we treat. Our staff have Certificate III in Cleaning Operations.
FAQs – Couch Dry Cleaning
Our couch dry cleaning Sydney service is affordable and pocket-saving but even these prices are charged depending on various factors. Those factors are,
The shape of the couch
Couches size
Level of dirt your couch has and
Fabric type
The first search for the top couch dry cleaning Sydney service in your surroundings and check for certain credentials. Those credentials are insurance policy, company accreditation of the company, experts' experience and licence. Check all these to book a company!
Yes, you can. We have an exclusive opening for call bookings for quotes and they are free for everyone in Sydney. So, contact us right away!
We Also Provide Services in These Below Suburbs: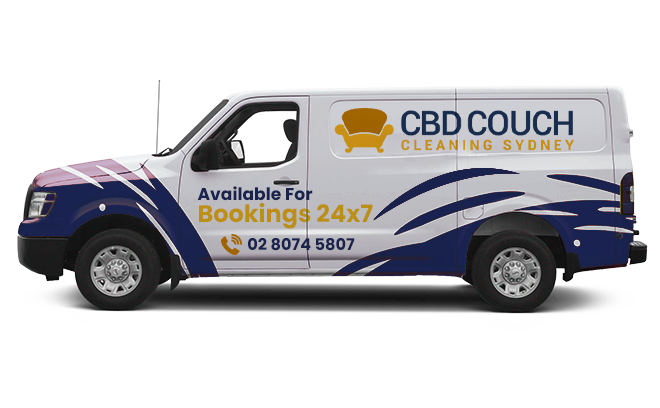 CBD Couch Cleaning Sydney
Location :-
46 Park St, Sydney, NSW, 2000, Australia
(+61) 280745807
(+61) 258501272
Hours of Operation : Mon-Sun 6:00 AM – 9:00 PM
Costumers Rating (116)
Reviews :-
Quick services
November 14, 2022
"I am overjoyed. As a customer, I felt completely confident in the technician who listened to my couch cleaning concerns, walked around the property with me, described the process in depth, answered all of my questions patiently, and provided the service at the end. Now my burnt couch looks nice.
Great staff
November 14, 2022
"Although the organization has excellent facilities, I'm happy with this employment. I gained knowledge on how to manage couches and sofas in my home properly. The staff is also very good.
Low price
November 14, 2022
"This couch cleaning team does so many things but they charge a reasonable price for the service. Thanks a lot for these fantastic services. I never had such an affordable service in Sydney.
Testimonials
"I am Rob. Couch stains and odours in my home were causing me problems. I feared those smells a lot. They were destroying my mood, and I saw them growing daily. I made an effort to manage them myself, but I completely failed. Finally, I got in touch with CBD COUCH CLEANING and I am happy to find that my problem has been solved.
"I am Lily. For a few days, I had a couch smell problem, and I tried everything to get rid of them. My friend recommended your services. Only once I cleaned my couch with this company, and the problem has already diminished. All problems have been solved easily.
"My name is Jack. I used couch cleaning services from this company to get rid of stains on my hall couch. The best part is how they comprehend the problem and inform us. I now enjoy a smell-free couch and home. I would really love to call them again if there will be any problem as such in the future.
Reach Here

CBD Couch Cleaning Sydney
Location: 46 Park St, Sydney NSW 2000
Couch Dry Cleaning Sydney
Call us at (02) 8074 5807 Couch Dry Cleaning Sydney
Location: Sydney, NSW, 2000, Australia