Need of Sanitization and Deodorization of The Couch
Not only does a couch in a living room add a cozy vibe to your place but it also enhances the beauty of your indoor interior. Everybody is well aware of the fact that cleaning your couch is important. However, people are still unaware of the importance of sanitization and deodorization of the couch. Often people think that couch cleaning services is enough because they feel that cleaning comprises the sanitization and deodorization process as well. However, this is not at all true. There is a huge difference between couch cleaning and couch sanitizing.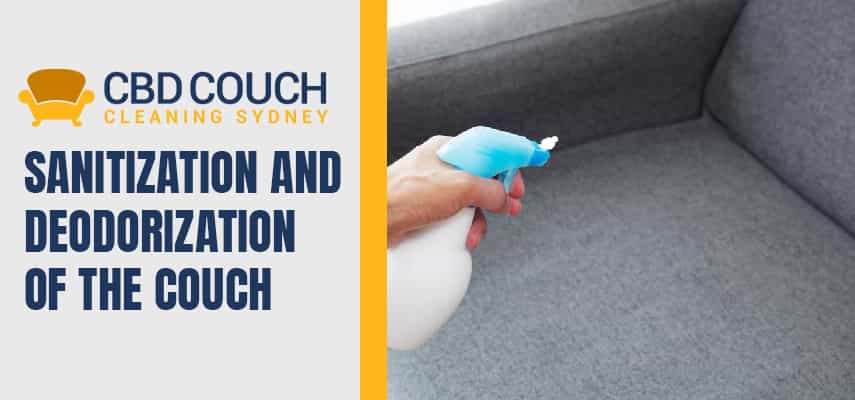 Why Is Sanitizing Important?
Especially, the importance of sanitization has emerged with the outbreak of the coronavirus in the world. We want the people to know that spending your time at home in a lockdown is not enough to protect yourself from the coronavirus. You need to make sure that you are regularly sanitizing places you spend most of your time like on a couch.
So, if you want to make sure of your indoor ambiance then dive deep into this blog to know about the DIY methods of sanitization and deodorization of the couch.
Why Is Deodorisation Important?
When it comes to deodorization, having a clean couch is not enough when it is smelly. How would you feel visiting someone who has a smelly couch? Well, the unpleasant odour that comes from couches can not be removed by just deep cleaning.
You need to treat the source of unpleasant smells individually. So, if you are struggling with a terrible odour that is coming off your couch then you need to do something about that. Do not worry, our experts have incorporated the best sanitization and deodorization DIY methods to help you out.
DIY Couch Sanitisation And Deodorisation Methods
Make Sure To Vacuum First
Cleaning the couch before moving forward with the disinfectant methods is highly crucial. Vacuuming will eliminate all the dirt, debris, dust, particles from the couch which will make the sanitization process more important and easier.
Eradicating All The Germs And Bacterias From The Couch
There are plenty of methods that can kill two birds with one stone when it comes to sanitization and deodorization of the couch. Additionally, the following DIY sanitizing and deodorizing sprays can also remove some of the toughest stains from your couch.
White Vinegar Disinfectant Spray
One of the most effective ways to disinfect and deodorize your couch is by using white vinegar. Additionally, you can also use this homemade spray when someone in your family is sick because this spray stops the spread of the virus immediately. Here is what you will need to create a homemade white vinegar spray.
One cups of white vinegar
A single cup of water
And one spray bottle
Mix all the ingredients together and pour them into the spray bottle. Make sure to shake the spray bottle before you sprinkle the mixture on the sofa. The strong smell of white vinegar will also work great to deodorize your sofa.
Baking Soda Deodorizing And Disinfectant Spray
This disinfectant works as a cleaning agent as well as a deodorizer for your couch. Here is what you will need to make this multi-tasking solution.
Dish soap
Spray bottle
Rubbing alcohol
Warm water
1 tablespoon of baking soda
A scrub brush [soft]
A sponge
At first, you need to make certain that your couch is safe to be cleaned using the above-mentioned ingredients. You can check the tag of special instructions that are attached to your couch. If your couch's cleaning instruction tag has a W on it, mix little drops of soap with baking soda. Pour the mixture into a spray bottle. Shake the bottle to make sure that the ingredients are mixed thoroughly.
However, if your couch's cleaning instruction tag has an S on it then pour the rubbing alcohol in the spray bottle. Use a soft sponge to wipe down the area that you have been exposed to rubbing alcohol on the couch.
After you are done with using the spray that is safe for your couch, make sure to wipe it down. When your couch dries after the entire process, use the soft scrub brush to revive the fibers.
Only Trust Professionals? Connect With Us!
CBD couch cleaning Sydney is the most effective sanitization and deodorization of the couch service provider. Additionally, we deliver all other sorts of couch cleaning services as well including steam cleaning, dry cleaning, hot water extraction, stain removal, etc.
Suggestion How To Clean Sofa and Remove Odors
We provide our customers with the best deals at the fairest prices. Our company practices eco-friendly cleaning, sanitizing, and deodorizing methods. We use the safest cleaning agents and solutions to make sure that our clients are having the best experience possible. Connect with us today for more details. Our staff have Certificate III in Cleaning Operations.