Seats with upholstery are available in every colour, design and size. But ultimately you will need to clean it, whether you have a comfortable recliner or a fancy dining room chair. The fabric may need to be cleaned of years' worth of pet stains, food spills and grime, or sometimes a simple vacuuming may remove the dust and make the fabric look brighter. To every person, How to Clean Upholstered Chairs at Home is a common question. So, for the answer to this question, it's crucial to identify the type of upholstery covering your chair before you start.
Manufacturers of furniture have included a tag since 1969 to help you choose the best and safest method of upholstery cleaning. Follow the cleaning instructions for the code by looking for the tag underneath the chair or cushion.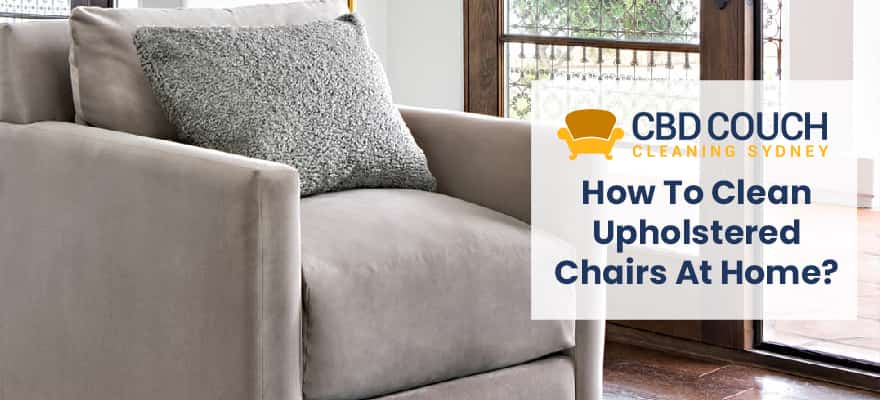 Code W: Our expert upholstery cleaners use water-based cleaning chemicals to clean fabric chairs.
Code S: When cleaning stains and dirt from upholstery, we only use dry cleaning or water-free solvents. These chemicals must be used in a space with good ventilation and no open flames, such as candles or fireplaces.
Code W-S: Both water-based and solvent-based cleaning solutions can be used on the upholstery when you consider How to Clean Upholstered Chairs at Home?
Code X: Only professional upholstery cleaners or vacuuming should be used to clean this fabric. Home cleaning products of any kind might shrink and develop stains.
If there is no tag on the chair, it is better to try several cleaning agents recommended by professional chair cleaning agents.
How Frequently Should A Chair Be Cleaned?
This section is about How Frequently Should A Chair Be Cleaned? Spills and stains need to be cleaned up right away. While you should vacuum your upholstered chairs and couch once a week, you should only clean your upholstery as needed or at the very least seasonally. Or the ideal number is two times a year to keep the upholstered chair clean and fresh. For professional upholstered chair cleaning, hire experts now!
The Best Ways To Clean Upholstered Chair At Home
The use of a vacuum cleaner on furniture may seem unusual, but it has its advantages. One of the main benefits is that it can be used on any type of surface, including wood and upholstery. It also does not have to be plugged in and can be used anywhere around the house. The best part is that it also doubles as a dust collector for the chairs. A vacuum cleaner is a device that sucks up dust and dirt from a fabric chair. So, you will need to vacuum the chair at least once a week to remove the hair, dust and other bits of debris from the fabric.
Treat Stains and Heavily Soiled Areas
It is important to know How to Clean Upholstered Chairs at Home or how to treat stains and heavily soiled areas on a chair. Use the edge of a sharp thing or a blunt knife to remove any solids from the fabric or upholstered chair. Never rub since doing so will just cause the stain to spread deeper into the upholstery. Blot liquids until they stop transferring moisture to a paper towel. You can use a variety of techniques and products to clean the stains. There are several ways of Upholstered Chair Cleaning you can clean a stained or soiled chair. You could vacuum the stain with a brush attachment, an upholstery shampooer, enzyme cleaner for tough stains, baking soda, white vinegar, hydrogen peroxide, liquid dish soap, and water for light stains.
Remove Stains and Spills Like a Pro
This section of the article, How to Clean Upholstered Chairs at Home will cover some of the most common types of stains and how to remove them. We will start with the most common stain that people encounter – coffee. Luckily, removing coffee stains is not difficult at all. All you need to do is put a wet towel over the stain and then use a dry towel to scrub off the residue. If you want to make sure that it doesn't happen again, just pour some white vinegar on it and let it soak overnight.
The next type of stain we'll be tackling are those pesky wine stains that seem impossible to get out. To remove these, we recommend using a mixture of equal parts hydrogen peroxide and water with a little dish soap mixed in for extra power. You can also try using club soda or rubbing alcohol if you have them handy as well!
Use Normal Cleaning Solution
The best solution to clean upholstered furniture is to use a vacuum cleaner. This Upholstered Chair cleaning Solution will remove the dust, hair and other debris that accumulates over time. You should also use a damp cloth to clean the fabric of the chair and then dry it with a dry cloth. In order to remove any stains that are difficult to get rid of, you should use a little bit of dishwashing liquid mixed with water on the stain and then wash it off with water.
Clean, Rinse and Dry the Upholstery
The Three Steps of The Process Are Given By Experts:
Cleaning: Upholstery Cleaning with water is a must and you can also clean the upholstery with a vacuum cleaner.
Rinse: The second step is to rinse the upholstery with water.
Dry: The third and final step is to dry the upholstery with a towel or dryer.
The Best Tips To Keep Your Upholstered Chair spotless For Longer
Immediately deal with spills and stains.
Regularly vacuum to get rid of dust that affects fibres.
Arms and headrests should be covered with easily removable, washable coverings.
Use a stain-reduction product as a pretreatment on a new upholstered chair. For more information on How to Clean Upholstered Chairs at Home.
Hire CBD Couch Cleaning for best Upholstery steam cleaning, Dry cleaning and more services.